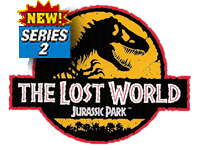 The Lost World Series 2 Prototypes
When The Lost World hit theatres in 1997, Hasbro/Kenner was poised to out-do themselves with all new dinosaurs, new humans, and hardly any repaints. Needless to say, TLW toy line was a huge success; being named one of the top best-selling toy lines of 1997. A follow-up to the initial The Lost World toy line, the Series 2 toys were released in limited quantities and fetch higher prices than their predecessors.

Triceratops

See this figure's page

Comments: Code name: "Trike". Comes with Dino Hunter's tent.
Other prototypes
| | | | |
| --- | --- | --- | --- |
| Ajay | Baryonyx | Ornithosuchus | Scout Hunter |