Triceratops
Pictures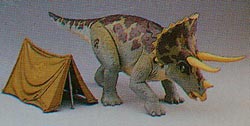 Catalog shot

Concept art

Loose test shot 1

Loose test shot 2

Comparison shot


Info
Action feature: Code name: "Trike". Ramming head attack. Also comes with Dino Hunter's tent and removable Dino Damage piece.
Available close-up shots: Front view 1, front view 2, top view 1, top view 2, profile view, bottom view 1, bottom view 2.

Value
Retail: $14.99
Rarity:

Review
By Raptoralpha: This toy was planned to be released as part of the short-lived second series of the TLW toy line. This very well-made dinosaur sadly never saw the shelves. Some believe it may be because of its long horns which could be quite dangerous if little kids played with it.
Points of interest
- This toy was supposed to be around 13 inches long, much bigger than what was originally thought.
- It isn't widely known, but this toy also had a Dino-Damage feature: a small piece of skin on its back could be removed.
- An action feature was planned for this toy: by moving its tail, the head moved, mimicking how the head moves in the Lost World movie when the Trike is smashing Ludlow's tent.
- An unpainted prototype of this toy was sold on eBay for $710 back in summer 2000. Close-ups of this prototype were made public by well-known collector Ajaythehunter.