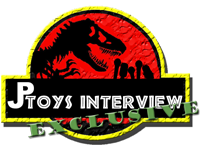 Interview With Otto Sturcke And Mike Butkus
If you've ever seen a science-fiction, fantasy or adventure film, chances are you've seen the work of Otto Sturcke or his mentor, Mike Butkus. Between the two, they have worked on projects such as Star Wars, Pirates of the Caribbean, The Smurfs and –of course- Jurassic Park, designing characters, posters and toys among many, many other things. We were lucky enough to get in touch with Mr. Sturcke, who was kind enough to be interviewed, together with his mentor, Mr. Butkus.

They have collaborated on the 2004 JP: Dinosaurs toy line, providing concept art, some of which can be seen on their respective web sites, which are linked below the interview.

First of all, Mr Sturcke and Mr. Butkus, I would like to thank you on behalf of JPToys.com for giving us the opportunity for this interview.



Now, your site has a list of clients, but no overview of projects. Can you give us an example of what you have worked on? More specifically, what toy lines have you worked on?

Mike and I have worked on many toy based projects including the new dinosaur line for MEG TOYS. We also worked on BUGZZ for them including Mike's brilliant set designs for the new T.V. series coming out in the near future. We've pretty much worked for every top toy making company and ad agencies. Some of the projects include Star Wars, Stinkblasters, Rocky Horror Picture Show, Puppies in my Pocket, Monsters in my Pocket, Star Trek, Tinkerbell, to name a few.

Which tools do you use to make your designs?

We're both very traditional artists using a little bit of everything. We use markers, prisma pencils, acrylics, you name it. We also use the computer if need be for fine tuning... photoshop specifically.

Were you involved in more Jurassic Park lines than just the 2004 releases?

Yes, we worked on the 2006 line as well, but we don't have much say about which toys go into production. We're pretty much taxis for hire... we'll take you where you want to go!

Your concept art for the Jurassic Park line from 2004 shows package designs. Did you only design these packages or were you also involved in the color design for the dinosaurs?

We were also involved in some of the color design, giving them different color renderings of the dinosaurs.

This line was made up of repainted figures from earlier toy lines rather than new sculpts. How does this influence the way you design concept art?

Although we get to have some freedom in the design and color of the dinosaurs, sometimes we are restricted to a previously established line of toys. We have to remain consistent to the fashioning of that line and so yes, in answer to your question, it does influence how we proceed with our design process.

The pteranodon in your concept art is completely different from the released product. Is this artistic liberty, or was this intended for a new and unreleased figure?

We go through a lot of concepts, many of which we do have liberty on, and then they go through many more changes. We're not always in tune with the final decisions the toy company makes considering that many times we are hired out by an ad company.

What can you tell us about the remote-controlled T-Rex concept art that is shown on your site, and the remote-controlled vehicle on Mr. Butkus' site? They are unlike any Jurassic Park figures we've ever seen.

Well, like I mentioned, we worked on a lot of preliminary concept designs but unfortunately many don't see the light of day and/or go into production.

In the second wave for this Jurassic Park line, there was a triceratops figure that was previously never seen. Do you know if this was an unreleased figure from a previous wave or if it was specifically designed for this line?

That we don't know.

Would you design for the Jurassic Park line again, given the chance?

We would absolutely design for the Jurassic Park line! It was a fun project and I think it's one of the things we do best. Combined, Mike and I have worked over 35 years in the business and have worked on easily over 2500 projects, but not all toy lines of course. We get to design for movie sets, one sheet posters, almost a little of everything!

Once again, we would like to thank both Mr. Sturcke and Mr. Butkus for taking the time off their busy schedule to answer our questions. Make sure to visit their web sites and check out their impressive portfolios, and keep an eye out for the upcoming dinosaurs line from MEG (concept art for this line can be found on Mr. Sturcke's website). Those may not be Jurassic Park, but they're also not extinct!

For more Jurassic Park: Dinosaurs 2 artwork, please visit our Toy Database.

DISCLAIMER: While we understand the enthusiasm of our readers for this interview, please refrain from contacting the interviewees on behalf of JPToys. The people interviewed do this as a favor to JPToys and are generally taking time off of their busy schedules. They do not have the time to answer dozens of e-mails. If you have any questions regarding the interview, please contact JPToys.com staff. They will be happy to answer your questions, or centralize them and then contact the interviewee. This interview is © 2011 JPToys.com, Otto Sturcke and Mike Butkus. The pictures are © Sturcke Studios and Mike Butkus.




Designer Otto Sturcke




Concept art of the JPD2 Pteranodon




Concept art of an unreleased JPD2 RC Hummer




Concept art of an unreleased JPD2 RC T-Rex