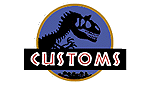 Custom Toys By JP Fanatics
Welcome to the JPToys Customs section!

To view an artist's gallery of customs, just click on their name. Be aware that each gallery consists of several pictures. Pages may take awhile to load up. Interested in having your customs displayed on or linked from JPToys? Contact us here and let us know what you are interested in.